Lancer Evo III rally
A Glorious Heritage
Chronological History of Mitsubishi Motor Sports Activities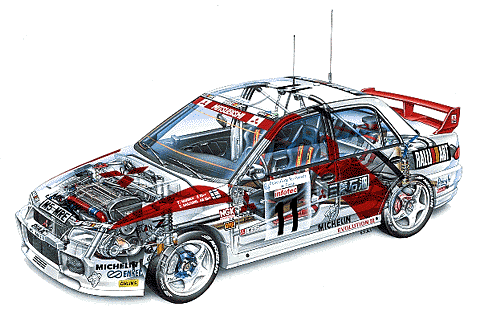 Lancer Evolution III


Rapid development of new models was to become one of the hallmarks of the Mitsubishi Lancer Evolution series, the Evolution III appearing in 1995. As Mitsubishi concentrated once again on the Asia-Pacific Rally Championship, the new Lancer Evolution III was thrown into competition from the first round, the Rally of Indonesia, rather than on a WRC event. While victory on its debut did not materialise, a sequence of four victories began on the third round, the Rally of Malaysia Rally, concluding with the last round in Thailand Rally. Consistently superior to its rivals, Mitsubishi collected both the Manufacturers and Drivers Championships.

With its huge rear wing reminiscent of a formula car and a purposeful front bumper, the Lancer Evolution III was styled as the ultimate rally machine. As might be imagined from its looks, down force had greatly increased but without an increase in drag, which made it an ideal rally car. Constant development of the Type 4G63 engine first used in the Lancer EX2000, notably the Post Combustion Control System introduced on the Evolution II car, proved highly effective in improving engine response, making up for a loss of top end power brought on by the regulation air restrictor.

The Lancer Evolution III first contested the fourth round of the World Rally Championship (WRC) and won on its third outing, the Rally Australia, which was also a round of the APRC. It was an amazing feat, considering that it took the Evolution II a year to achieve it first win. And 1996 would provide incontestable proof of the absolute speed of the Evolution III. In the hands of Tommi Makinen (Finland), the car won five of the nine rounds, propelling him to his first WRC title and bringing Mitsubishi a World Championship in the process.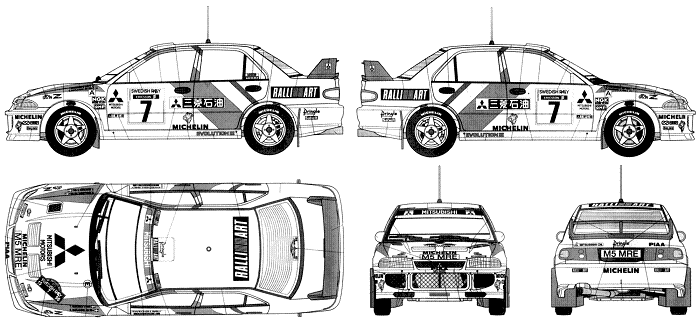 Gr-A RALLY SPECIFICATION
| | | | |
| --- | --- | --- | --- |
| Dimensions | Overall length 4310 mm | Drive system | Full-time 4-wheel drive |
| | Overall width 1695 mm | Transmission | 6-speed manual |
| | Wheelbase 2500 mm | Suspension | Front- |
| Engine | Model 4 G 63 | | Independent - MacPherson |
| | Type 4 cylinders, | | struts with coil spring |
| | 16-valve DOHC - | | Rear - |
| | Fuel system ECI-Multi | | Independent-multi-link with |
| | intercooled turbocharger | | trailing arms and coil spring |
| | Bore x stroke 85.0 x 88.0 mm | Dampers | Ohlins |
| | Displacement 1997 cc | Steering | Power assisted rack & pinion |
| | Maximum output | Brake | Front - Ventilated discs with 6- |
| | 198Kw (270 ps)/6000 rpm | | pot calipers |
| | Maximum torque | | Rear - Ventilated discs with 4- |
| | 440Nm (45.0 kg m) / 4000 rpm | | pot calipers |
| | | Tyres | Michelin |
Major Results
1995
Safari
2nd
Tour de Corse(WRC)
3rd
Indonesia(APRC)
2nd
Malaysia(APRC)
1st
1000 Lakes
1st
Australia(WRC/APRC)
1st
Hong Kong-Beijing(APRC)
1st
Thailand(APRC)
1st
WRC¹
2nd in Manufacturer's Championship
WRC¹
3rd in Driver's Championship(K.Eriksson)
APRC²
Manufacturer's Champion
APRC²
Driver's Champion(K.Eriksson)
1996
Swedish(WRC)
1st
Safari(WRC)
1st
Acropolis(WRC)
2nd
Malaysia(APRC)
2nd
Argentina(WRC)
1st
New Zealand(APRC)
1st
1000 Lakes(WRC)
1st
Australia(WRC/APRC)
1st
Hong Kong-Beijing(APRC)
1st
WRC¹
2nd in Manufacturer's Championship
WRC¹
Driver's Champion(T.Makinen)
APRC²
Manufacturer's Champion
APRC²
2nd in Driver's Championship(R.Burns)
¹WRC=World Rally Championship ¦ ²APRC=Asia Pacific Rally Championship
---